Sainsbury's Delivery Man Thank You for Getting it Right
Martin turned up on time for what was our first Sainsbury's Direct weekend delivery. It was a grey day, about as grey as Martin's hair (I guess he was in his late 50's early 60's). It was a Sunday morning around 11.00 am. Martin was a breath of fresh air when it came to service, let's face it a delivery service can be a fairly transactional process – order, pick, pack , deliver, unpack, check. Martin proved that even the most transactional of events can be made to be human, professional, relaxed, informative, efficient and friendly and entirely focussed on the customer.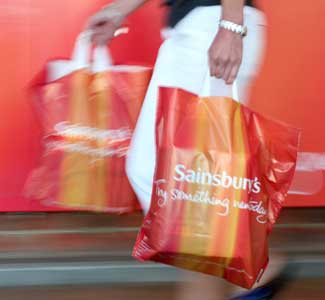 What made the experience worth blogging about was that it was refreshingly straightforward combining the necessary transactional elements with the emotional element too. During training courses that we run for customer facing staff participants often complain that they just don't have the time to spend with their customers and that they wish they had more so they could interact further. I don't believe it's time that is needed but more of a shift in focus. Consider the focus from four perpsectives: the Jobsworth, Target Chaser, Entertainer and the Relationship Builder.
A Jobsworth focusses on doing the least necessary to get by. He pays little attention to the transactional and process elements of his job and little if any on the relationship with colleagues or customers. He manages to get by on the minimum input and as a consequnce can be eesn by some as working to rule.
Target Chasers are constantly chasing after the numbers, striving to sell more and produce more often at the expense of the relationships that are involved and so therefore risk upsetting the very people they are trying to serve. They focus only on hitting targtes often in order to achieve some bonus or reward for themselves.
Entertainers spend too much time entertaining and chatting with customers using their time to build relationships but pay little attention to the output they need to deliver upon either. For Entertainers it's all about spending time with customers and trying to get the customer to like them for their entertaining style and personality. Because of their lack of focus on the outputs required in their role they become unproductive and constantly behind on delivering on the numbers.
Relationship Builers on the other hand have a focus on both the relationship and on the targets. They know the importance of getting the job done, meeting their targets and so on but they also have an acute awarenes of the need to develop a relationship with the customer because in the long term they realise that this will help them meet their targets too.
Martin was a great example of a relationship builder. He clearly wanted to get his work done as soon as possible, deliver his products and move to his next scheduled drop. But  at the same time he was aware of the need to develop a positive relationship with his customer. He did this at the same time as handling the bags of shopping to me, by taking the time to xplain what items were missing and  how to identify the alternative that had been supplied when our requested items had been out of stock. He also pointed out how to save money by placing an order for delivery mid-week and who to contact in the event of any shortfalls or damages. He even attempted some rapport building by commenting on the planned football match between Liverpool and Chelsea that he was due to watch once he had finished work.
Thank you Martin on route A from Cheltenham. We award you one of our Golden Shoes for excellent service. Keep up the good work.
Mark Gregory is Programme Innovator & Transformation Coach for The Customer's Shoes, a niche consulting business helping organisations to deliver extraordinary Customer Experiences that drive profitable business growth. His role includes training and workshop facilitation as well as consulting for clients who aim to become famous for their customer experience.
Latest posts by Mark Gregory (see all)